AHA Basic Life Support (BLS) Course
We provide the AHA Basic Life Support for Healthcare Providers, or (BLS Provider course) in two formats. You can opt for blended training or classroom training sessions. The blended training sessions have two phases. You can learn the course modules through eLearning in a self-directed manner in the first phase of the AHA BLS course. After completing the self-learning modules, you can proceed with the hands-on skills session with our professional staff. If you want comprehensive classroom training, you can choose our in-class course sessions led by one of our instructors. Have a look at our AHA BLS course schedule.
AHA Advanced Cardiovascular Life Support (ACLS) Course
Our AHA Advanced Cardiovascular Life Support (ACLS) course aims to provide professional training for cardiopulmonary arrest and other cardiovascular emergencies. This course provides you with advanced training that encompasses various emergency scenarios to provide prompt life support. You will be able to learn BLS skills, respiratory and cardiac arrest management, prompt management of peri-arrest conditions, airway management, cardiovascular pharmacology, ACS and stroke management, and post-cardiac arrest assistance. Check out our complete schedule for the AHA ACLS course.
Basic Life Support for Healthcare Providers
If you want to save your loved ones in life-threatening situations, the AHA BLS course can help you. The Basic Life Support training is a professional CPR certification for healthcare practitioners, clinicians, and non-clinicians. As one of the most recognized CPR courses, AHA BLS training meets the eligibility criteria of medical centers, hospitals, nursing schools, dentistry schools, and personal care providers. If you join the AHA BLS course, you will also receive Bag-Valve-Mask (BVM) and team CPR training. Our qualified professionals provide same-day certifications once the course completes. Feel free to review our BLS course schedule.
Heartsaver Courses for Lay Responders
Our AHA Heartsaver courses provide CPR and/or First Aid training to lay responders, also Bloodborne Pathogen course.  These courses focus on CPR/AED training (for adult, children and infants), and choking relief training for individuals of all ages.

AHA Heartsaver courses can be customized to meet the needs of your company or an individual's needs.  You can choose Adult-only CPR/AED or CPR/AED for adults, children, infants.  You can also add First Aid or Pediatric First Aid to those CPR/AED courses.  If you need professional training for Heartsaver Bloodborne Pathogens, our instructors can provide you with a formal training session to protect yourself and others from bloodborne illnesses.  Click here to find our Heartsaver course schedule.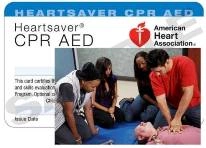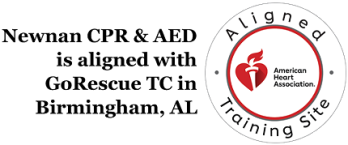 American Safety and Health Institute (ASHI) Course
Our ASHI courses also provides CPR/AED and/or First Aid training for lay rescuers, like fitness professionals, day care workers and other lay (non-Healthcare) responders.  This course provides lay rescuers the knowledge to help in an emergency, perform CPR, use an AED, choking relief, and handle first aid emergencies.  Find out our course schedule here.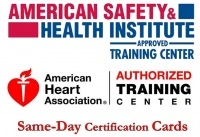 We Also Provide Professional Training for NSC and ARC Courses
The public courses (on the Newnan CPR course schedule) , are all either AHA or ASHI courses (and ALL healthcare courses are genuine AHA).   Upon request, we can offer professional training courses for National Safety Council (NSC) and American Red Cross (ARC) training.  Please request those courses for your company or business on our Onsite Course Request Form.